What do over 5000 Dawoodi Bohra women have in common? They are bound by common threads - Happy Threads by Supermoms (referred to as Happy Threads). Drawn across the length and breadth of the country, Happy Threads gainfully employs women from the community who are highly skilled in the art of weaving and crotchet, to create works of art.
Started in 2016 to help women from the community realise the true potential of their talent, the Happy Threads network is formed on the foundation of an important part of the culture in which the Dawoodi Bohra women have been brought up. Every woman from the community acquires the skill of embroidery, crochet, and basic stitching, as a part of their upbringing and education. Happy Threads helps channelise this talent into a more organised, professional setup that empowers all women to be superwomen and supermoms.
A sense of fulfillment runs through each supermom, who weaves not only an exquisitely handcrafted piece of art, but also a story, a hope, and a dream fulfilled. These stories resonated, inspired, and stirred hearts and hands into movement; to create, to build, to innovate, and to empower. As a culmination of these stories, Happy Threads empowers women to take charge of their lives, and be a catalyst of change, through their unique products.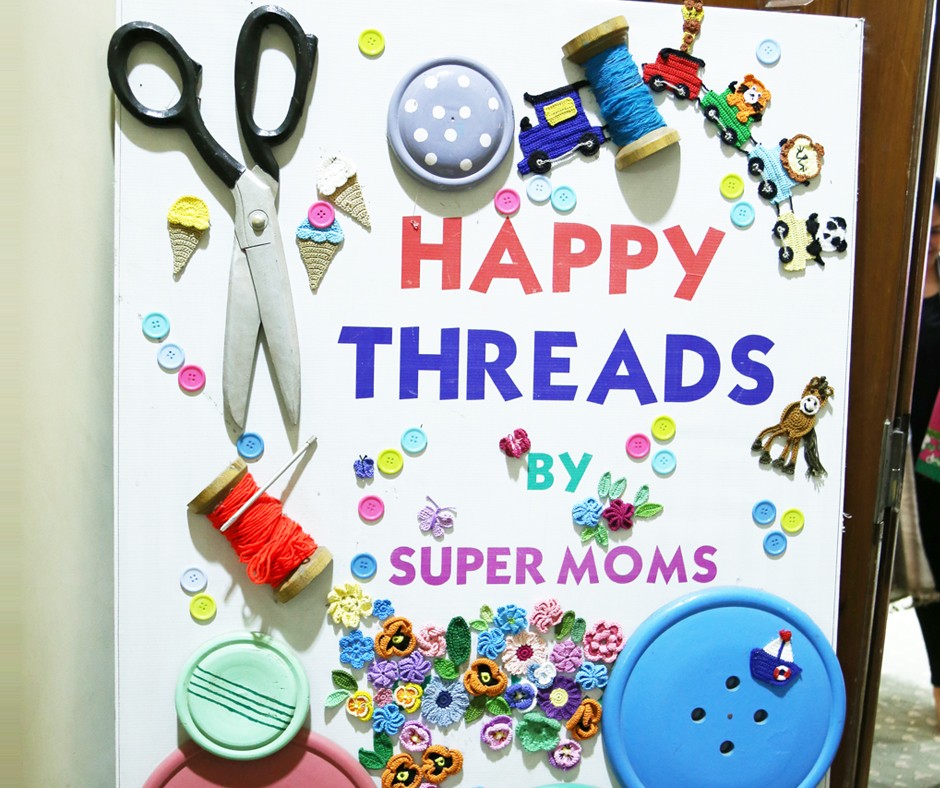 Using just a needle and a bale of thread, these Supermoms create hair accessories, stationery, keychains, bookmarks, scarves, wall hangings, coasters, and more. These master craftswomen also remain true to their culture and tradition through their works while adorning their prayer mats and ridas with crocheted works.
The Happy Threads network has artisans based in Banswara, Neemuch, Ankleshwar, Ghogha, Galiakot, Bhopal, Ratlam, Dohad, Surat, Mumbai, Pune, Madras, Barnagar, Indore, and Bangalore, to name a few. Women in the network work in small groups, at home, and in community halls, taking on orders, which are then sent to the headquarters in Surat. Over here, the goods are assembled, designs are replicated into multiple pieces and packaged and shipped to various parts of the country, as well as international markets. These products are sold through retail stores, online markets, and arts and crafts fairs.
Over the years, the Happy Threads initiative has come a long way. From telling heart-breaking stories of debt and financial burdens, today, members of the network boast of being independent and empowered. This was further emphasised by Fatima Najmi, Manager, Happy Threads, Surat, when she said that Happy Threads has been instrumental in creating employment opportunities, and has seen women work in various capacities to ensure their joint success. More recently, Happy Threads' success got a major fillip when it was recognised by Guinness World Records for its participation in creating the world's largest display of crotched sculptures in Chennai.
Going by the success Happy Threads has enjoyed in a short span of time, one thing is clear; the knots woven by these women are never to be undone. They bind them together, and symbolise empowerment and progress. Happy Threads has truly rejuvenated the lives of Dawoodi Bohra women across the country, and firmly established its position as a catalyst of social and economic reforms.